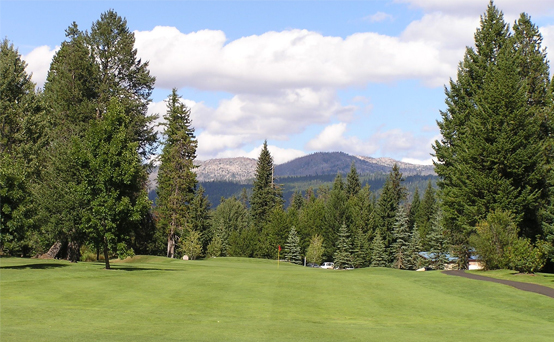 Visit McCall, Idaho Area for Golf
You don't have to be an avid golfer to appreciate the natural splendor of our five area courses. Teeing off over a green meadow with a snowcapped mountain at your back may not automatically improve your handicap, but it will improve your mood!
Things to Do
Transportation
Lodging
News
Hiking: Hiking is hands down one of the most popular activities in McCall. There is a huge variety of trails to explore around McCall. Only have an hour? No problem, we have a trail for that. Want to turn a hike into a day-long adventure? We have that covered, too. And the scenery is epic no matter which trail you take. https://visitmccall.org/things-to-do/activity/hiking/
Mountain Biking: Mountain biking in the McCall area has been quietly evolving. While the rugged backcountry trails that put us on the map are still prime, the addition of purpose-built trails is changing the landscape. Explore the growing network of trail options in the McCall area and start planning your next ride! https://visitmccall.org/things-to-do/activity/mountain-biking-in-mccall/
Lake Activities: Payette Lake is a scenic showstopper and the centerpiece of activity in McCall. Spend the day at a lakefront beach or explore the clear, cool water by boat. Whether you are swimming, sailing, waterskiing, jet skiing, or boating, the lake offers endless activities to keep the family entertained. https://visitmccall.org/things-to-do/activity/lake-activities/
Paddling: When it comes to lake kayaking, canoeing, and paddle boarding, locals know that Payette Lake plays second fiddle to the North Fork of the Payette River. This lazy stretch of river was made for meandering. Flanked by soaring pine trees and lush wetlands, it is not uncommon to see deer, eagles, fox, or even the occasional moose on the bank. https://visitmccall.org/things-to-do/activity/sup-canoeing/
Scenic Tours: Kick back and enjoy the scenic sites on a tour for the whole family. Hop on a lift for a scenic chairlift ride and find stunning views from atop Brundage Mountain Resort and Tamarack Resort. Explore the top of the mountain at your leisure then get a ride back down to the bottom. https://visitmccall.org/things-to-do/activity/scenic-tours/
Find the perfect pillow to rest your adventure-weary head on. Choose from spacious lakefront homes, a world-class resort, modern downtown condos, cozy hotel rooms, campsites, RV spaces, and quintessential mountain cabins. No matter where you stay, let us roll out the welcome mat and help you settle in to your home away from home.